Winter Weddings offer such a wealth of opulent themes; crisp whites, rich green foliage, sumptuous berry accents coupled with luxurious fabrics and metallic tones. If you're a Winter bride then you are in for a real treat! Those creative geniuses at The Emporium in Clitheroe recently produced their very own Winter Wonderland at The Shireburn Arms with a little help from some of their industry friends.
"The Shireburn Arms is a quintessentially
English Country Inn, standing in the heart of Hurst Green village in Clitheroe.
Beautiful gardens, quaint, with spectacular views across the Ribble Valley. We
wanted to capture the seasons starting to merge
with winter creeping in, and set out to take inspiration from this most magical
time of the year.
"To orchestrate a stunning scene of special
winter wedding inspiration, using on trend décor, styling, dressing
and design, whilst taking inspiration from 1920's-50's glamour, we showcased The Shireburn Arms as a venue perfect to hold a
simple, individual yet utterly fabulous wedding venue. Almost a 'hidden gem' filled with romance and charm."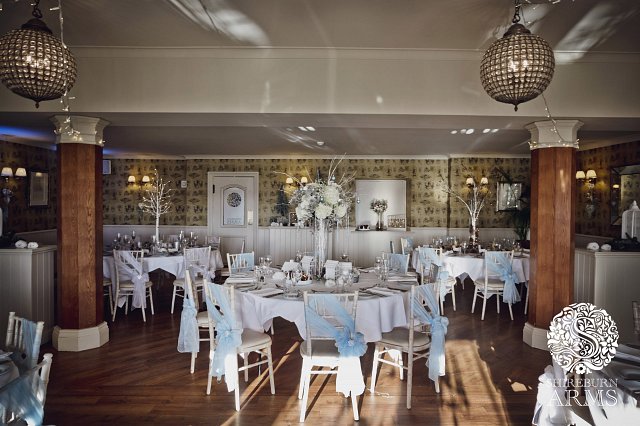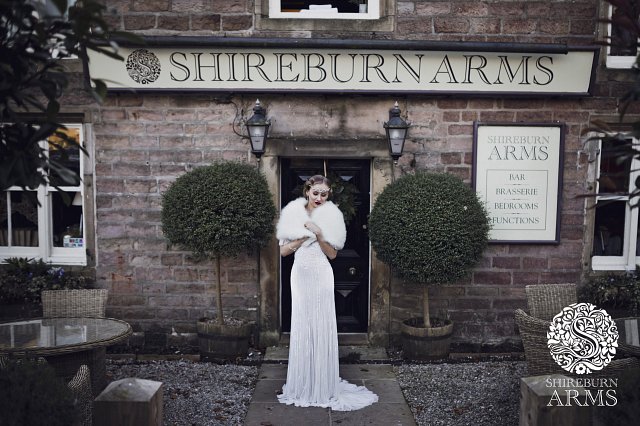 The Shireburn Arms, Whalley Road, Hurst Green, Clitheroe, Lancashire, BB7 9QJ
Tel: 01254 826 678
Dresses: Lulu Browns (indoor dress – Les Simons
Separates) (outdoor dress – Eliza Jane Howell – Musetta Gown and Rosamund
shrug)
Jewellery (headpiece, bracelet – Jon Richard
Jewellery)
Outdoor headpiece and other jewellery (Earth Links Jewellery) which
is the model's own brand!