Yesterday saw the ceremony
for the 2016 Great Northern Wedding Awards at Beeston Manor. These Awards are
organised by Little White Books and are driven by you – our brides & grooms
– nominating and voting for your favourite North West wedding businesses.
So this is our second Great Northern Wedding Awards. We now have a
benchmark – something to compare it to – last year's winners wanting to retain
their crowns – and the other finalists snapping at their heels! What we can
tell you is you have nominated and voted in record numbers – over 10,000
individual nominations and votes in total. It's been amazing – tense – close –
fingernail bitingly close in many categories – take a look at the list below
and you'll find the very best wedding businesses in the North West here and as
such this year has been incredibly competitive.
Every business that reached the Top Ten and then the Final Five are
all here because of the endless good work that they do for all their wedding
clients. So not wanting to sound clichéd about it or anything but everyone on
this list is somebody's winner. And every business fully appreciates the time
you have taken when you have nominated or voted so THANK YOU for getting
involved.
Wedding
Caterer
Anne Wilson Cordon Bleu – RUNNER UP
Ribble Valley Hog Roast – WINNER
Twelve
Wild Garlic Event Catering
With a Twist – 3rd
Bridalwear Retailer
Amelia's – WINNER
Bridalwear by Emma Louise – 3rd
Dreamaker
Glamour Bridal Boutique
Lulu Browns – RUNNER UP
Wedding
Cakes
2 nice 2 slice – 3rd
Lisa Marie Cakes
Pink Frosting Cake Company – RUNNER UP
Polka Pops
The Wedding Cake Company – WINNER
Victoria Cakes
Entertainer
or Entertainment Company
Alex Birtwell – RUNNER UP
Dancefloor Couture – WINNER
Gavin Young
Paul Thornton
Pier Fun Casino – 3rd
Wedding
Florist
A.M. Flowers – RUNNER UP
Flowers with Passion
Red Floral Architecture – WINNER
Rose Boutique
The Flower Shop Clitheroe – 3rd
Hair
Stylist
Bridal Hair by Sam Gateley – RUNNER UP
Flossy & Leigh – WINNER
Lisa Simms
Paisley Gamble
Wedlocks – 3rd
Hen / Stag Destination
Birdcage Manchester – RUNNER UP
Funny Girls
Posh Pads Liverpool
Signature Living Liverpool – 3rd
The Woodland Spa – WINNER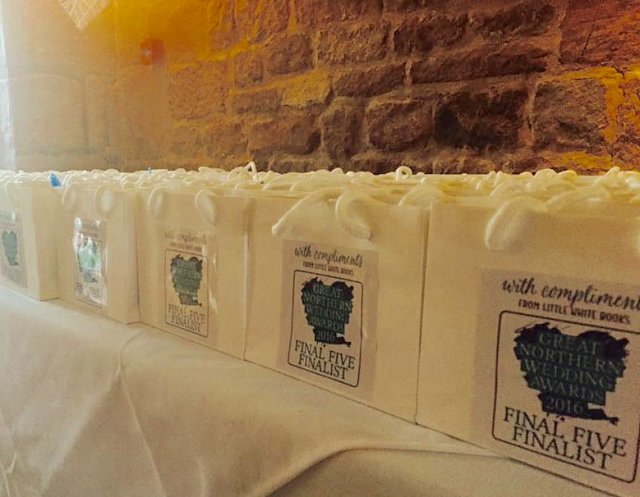 Jewellery
& Accessories Another category with a joint fifth place –
so there's six Final Five Finalists!!
Carrs Jewellers
Ditsy Bride
Eleventh Heaven – 3rd
Rocks For Frocks
Sparkle Designer – RUNNER UP
Victoria Walker Boutique – WINNER
Make Up Artist
Emily Worswick of the Beauty Retreat
Flossy & Leigh – WINNER
Kerry Baker Make up Artist – RUNNER UP
Leanne Jackson – 3rd
Samantha Mercer and The Dollz
Female
Photographer
Gemma McAuley Photography – 3rd
Jules Fortune Photography
Kerry Woods Photography – WINNER
Louise Hendry of Phunk'd Photography
Rachel Joyce Photography – RUNNER UP
Male
Photographer
Ashton Photography – WINNER
Christopher Lewis Photography
James Jebson Photography – 3rd
Mick Cookson Photography – RUNNER UP
Sam Sanders Photography
Menswear
/ Formal Hire Retailer
Amelia's
Greenwoods / 1860 – 3rd
Moss Bros – RUNNER UP
Slaters – WINNER
The Mens Room by Dreamaker
Mother of the Bride or Groom Occasionwear
Amelia's – WINNER
Aubergine – 3rd
Chic
Flamingo – RUNNER UP
Maureen Cookson
Stationery
Brides Little Helper – WINNER
Charlotte Designs
Deannamic Designs
I Do Designs – 3rd
T For Two – RUNNER UP
Transport

Broughton Wedding Cars
Grace Wedding Cars
Horgans Wedding Cars – 3rd
Malvern Wedding Cars – WINNER
The Love Bus Wedding Company – RUNNER UP
Venue
Stylists
Add a Little Sparkle – RUNNER UP
A.M. Flowers
Beautifully Vintage – 3rd
Brides Little Helper
Creative Cover Hire – WINNER
Videographer
Abbey Studios – WINNER
Big Bear Wedding Films
Creative Camera
Diamond Lights Wedding Videography – RUNNER UP
Silk Wedding Films – 3rd
Venue
Without Accommodation
Bashall Barn – RUNNER UP
Bolton School
Browsholme Hall – 3rd
Rivington Hall Barn – WINNER
Samlesbury Hall
Venue
WITH Accommodation
Ashfield House
Beeston Manor – WINNER
Eaves Hall – RUNNER UP
Farington Lodge
Mitton Hall – 3rd
The
Best New Business of the Year Award goes to – Petals in Love.
Here's some more social media images of a selection of our Runners Up and Third Place companies – look out for our official photos coming very soon from Teresa C Photography. And Little White Books would like to thank our regular hosts the Party Project for doing a damn fine job of hosting our ceremony yesterday!