"We first met on a dating website but it is a wonder we hadn't
met 10 years earlier as Paul once worked with my brother and remembered seeing
me visiting my brother. Once we started to date we realised that we knew a lot
of the same people.
The proposal was amazing. At the time we were living in New
Zealand then out of the blue Paul told me to pack as he was taking me on a
secret holiday. Paul took me to the Hilton Spa Hotel in Queenstown complete
with stunning views of the Lake Wakatipu. The next day we got a helicopter up a
mountain where the pilot got out and set up a table with champagne and nibbles
– it was a wonderful moment.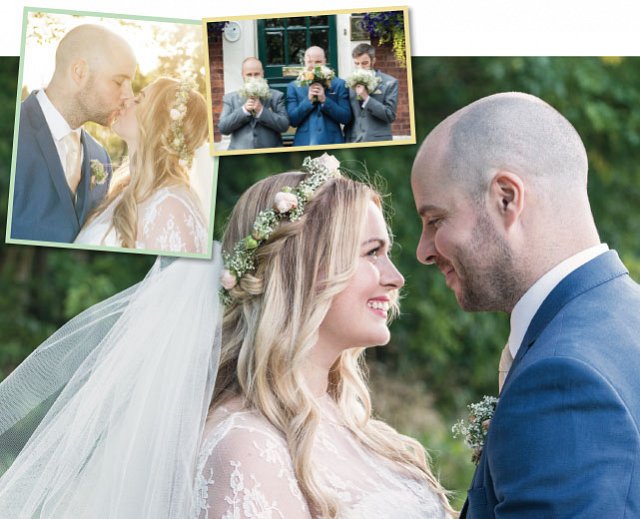 We chose our venue, Etrop Grange Hotel in Manchester, over Skype with the help of our folks.
They visited venues for us and Skyped us while they were there. The theme of
the day was "Boho Vintage" with the main colours being cream, soft peach and
pink blush. On each table were handmade ornaments found on our travels around Australasia.
These were spray painted gold and represented places special to us. While in
New Zealand Paul had worked on the Hobbit films so we had a Hobbit table
complete with Hobbit statue. Another theme to the day was my love of cats. In
New Zealand I volunteered at a cat shelter where we got our two cats, Gandalf
and Lexie. We brought them back to the UK with us in May. I had done a
watercolour of the cats which I used for table names along with two brass cats
at the top table – oh, and our wedding cake topper was cats. The stationery I
designed myself – Hertas Creative.
Choosing my dress was surprisingly easy – I went to Paper
Swan Bridal in Wellington, New Zealand. All the dresses were vintage/boho which
was just what I was looking for. The dress I chose was by Blush – pale pink/oyster
in colour – with many layers of beautiful rose lace and finished with a ¾ length
lace blouse by Rue de Siene.
Our first dance song was 'At Last' by Etta James although we
would have preferred something a bit more rocky. It was simply a nice slow song
which we both felt was classic and would stand the test of time.
Our honeymoon was arranged after getting home from the
wedding the following day, both very hungover, we looked on lastminute.com and
booked a flight for 8 hours later to Mallorca. We were very rushed, very
unorganised…very us!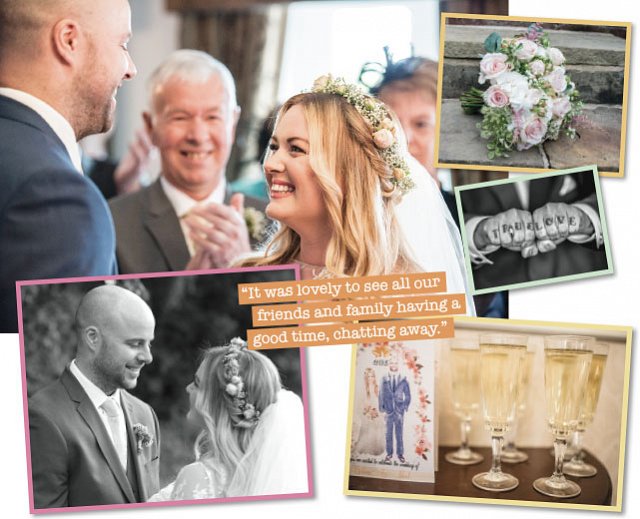 It was lovely to see all our friends and family having a
good time, chatting away and it was a great way to catch up with people we hadn't
seen for a while. My advice to other brides and grooms…is try not to get
stressed about it. You can always book it all over the internet like we did. We
found most of our suppliers on Facebook – don't get caught up spending
thousands and thousands of pounds. Don't follow trends, set your own theme…it's
your day so let it represent you.
If I had to choose three favourite things from our wedding
day they would be my Rue de Siene lace blouse (this was my little piece of New
Zealand with me all day); the pale pink ceramic cat cake toppers (they were so
different to any cake toppers I had seen and were hand made by an artist in
Transylvania called Jasmine Blanc – I found her on Etsy); and finally, my
flower hairpiece by Flowers by Strawberry Fields. It was just so pretty with its
small pale pink roses and delicate Gypsophilia – very boho!"
Hair: www.jodiemakeup.co.uk
Makeup: www.emmalenesophia.co.uk
Flowers: www.flowersbystrawberryfields.co.uk
Dress and lace blouse: www.paperswanbridal.co.nz
Stationery: By Helen! www.hertascreative.com
Props: www.tamarynstreasures.co.uk
Dress alterations: www.legendbridaldesigns.co.uk
Photography: www.djarcherphotography.co.uk – special thanks to DJ Archer Photography for supplying helen & Paul's images from their special day.