Sally & Michael were married on 22nd August 2014 at Mitton Hall, Whalley.
Michael and I first met at school. We started dating at 17
years old; I was at 6th form and Michael was playing full-time professional
football. We had been together 10 years when Michael proposed on Christmas Day.
On Christmas Eve Michael was putting crackers on the tree; I didn't want them
on my beautifully decorated tree so tried to take them off. Michael ran over
and removed them. On Christmas morning Michael brought me breakfast in bed and
the crackers were on the tray. We pulled a cracker and when we pulled the second
cracker it had a ring box in it – inside was a diamond ring. I looked up at
Michael to find him on one knee on the floor. Michael had to ask me twice to marry
him as I was in shock so didn't hear him the first time. Obviously I said yes.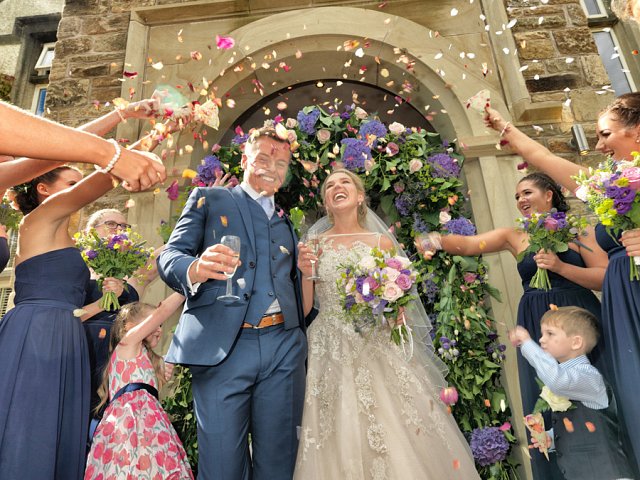 We started looking at venues at the end of April. We went to
Mitton Hall in Whalley, Clitheroe, accompanied by friends Emma and Rachael. As
we pulled up to Mitton Hall in the car we knew it was where we wanted to get
married. The grounds were beautiful and the building was really impressive. I'd
always wanted a church wedding but when I saw the bridal rooms I changed my
mind – it was going to be Mitton Hall for the ceremony and wedding day. The
bridal party room had large windows overlooking the car park and grounds; the
ceremony room was beautiful and bright and overlooked the fields. My two
friends were in tears, they loved it so much, and Michael immediately wanted to
book a date. The wedding planner told us they were booked up for 2015, but had
a cancellation for 22nd August (in four months time), so we booked it – 120 day
guests and 200 evening guests.
We didn't have a set theme colour; we just wanted everywhere
to look fresh and beautiful, with lots of flowers. We had a gorgeous floral
archway and fresh flowers on the tables, beautiful bouquets for myself and the
bridesmaids and flowers for their hair. A family friend, Sheila Greenwood,
designed the flower arrangements. All the guests complimented the flowers, even
after the wedding.
The bridesmaids chose their own dresses – long navy blue
dresses from 'Coast'. My wedding dress was from 'Diva Bridal' in Barnsley. My
Mum and I went wedding dress shopping together; we walked into Diva Bridal and both
went straight for the same dress. It was called 'Lilie' by designer Justin
Alexander and was champagne in colour. I chose a champagne veil with diamantés
on the edging. My parents bought me Jimmy Choos wedding shoes.
My mum made our
cake in white and champagne to match my dress. She made the lace, flowers, decorations
and baked the cake herself. It was the most beautiful cake I've seen. My
grandma always loved to bake and she loved Michael as well. Unfortunately, she
passed away a number of years ago but we had her picture next to the cake.
For our favours we donated money to the Alzheimer society
and gave all the guests an Alzheimer pin – plain blue for the men and blue sparkly
ones for the ladies. For the children we provided activity bags to keep them
busy.
When we booked the venue my mum started buying roses, drying
them out to be used as confetti for the guests. We used doilies to make
confetti holders and they looked beautiful on the day. Our aisle song was the
acoustic version of Christina Perry's 'A Thousand Years' – it was perfect. Sheila,
the florist, produced the most stunning flowers and the maid-of-honour and best
man speeches were perfect.
My mum wrote a poem and read it during the ceremony
– it was so lovely. We had good friends Robert McGlaughlin play the piano after
the ceremony and Victoria Rothwell sing while the guests were arriving and in
the grounds after the ceremony, as well as another friend and her husband
playing the violin. We also had a five-piece band called 'The Rush' perform at
the wedding – they were unbelievable, the dance floor was full all night. Our
first dance song was 'You and I' by John Legend. The words were perfect.
When I
think back to the wedding day, I remember pulling up at Mitton Hall at 8am to
see Sheila, the florist, putting together a floral arch of flowers. I burst
into tears; it was so beautiful.
Capturing our day was Andrew Wade Photography. Having seen
Andy's work there was no doubt in our mind that we wanted him to photograph one
of the most memorable events in our lives. He captured the love and memories
beautifully without us even noticing, and for that we will be eternally
grateful. His images have preserved our day in a way that is naturally us.
Andy even went the extra mile and delivered our album on
Christmas Eve in person to our door, all ready to be wrapped up and opened on Christmas
Day breakfast – exactly one year after the engagement. Each time we look at our
album it reminds us of precious moments shared with family and friends. Two
days after the wedding we flew to Las Vegas for our honeymoon and had front row
seats at a John Legend concert. We stepped into the foyer of our Vegas hotel
just one week after getting married and heard our wedding aisle song being
played – it was just meant to be.
I loved getting ready with the bridesmaids and my mum; we
had a MAC makeup artist and my friend, Amanda Houghton, do all our hair. I
loved the moment the bridesmaids walked down the aisle and it was just me and
my dad, calm, collected and full of love.
We loved the photoshoot in the
gardens; it was so effortless and natural. The speeches were also fabulous, the
maid-of-honour, best man, father-of-the-bride and the groom's speeches had
everyone in tears and fits of laughter. Above all, my favourite memory was of
us standing at the top of the aisle surrounded by family and friends, knowing we
would be spending the rest of our lives together – the atmosphere in the room was
incredible.
Mitton Hall did such a brilliant job of organising everything; it
all flowed perfectly and made our day happen. If we were going to give any
advice we would say relax, keep calm and enjoy it – it's a once in a lifetime
experience. Don't get carried away, make it personal, do as much yourself as
you can and make it your own magical, individual wedding day.
Many thanks to:
Andrew Wade Photography for supplying Sally & Mikes
images weddings.andrewwadephotography.com
Mitton Hall www.mittonhallhotel.co.uk/weddings
And you can WIN your wedding photography with Andrew Wade Photography here in a competition open exclusively to Little White Books' couples:
weddings.andrewwadephotography.com/littlewhitebooks